Welcome to BMW World of Golf, where the sport of golf meets the unparalleled luxury and performance of BMW.
For almost four decades, BMW has been at the forefront of excellence in the largest international tournament series for amateur golfers. Our dedication to the sport goes far beyond. BMW has developed capsule events and launched initiatives to support the sport, all of which culminate in the BMW World of Golf.
The BMW World of Golf brings together BMW owners and fellow enthusiasts for a unique experience that builds lasting relationships and camaraderie. Join us and experience the joy of the drive, unparalleled golfing excellence, and the BMW lifestyle. Discover the ultimate fusion of luxury, performance, and passion, all coming together in BMW's exclusive world of golf.
Read more
THE GATEWAY TO BMW GOLF CUP WORLD FINALS.

THE SCHEDULE.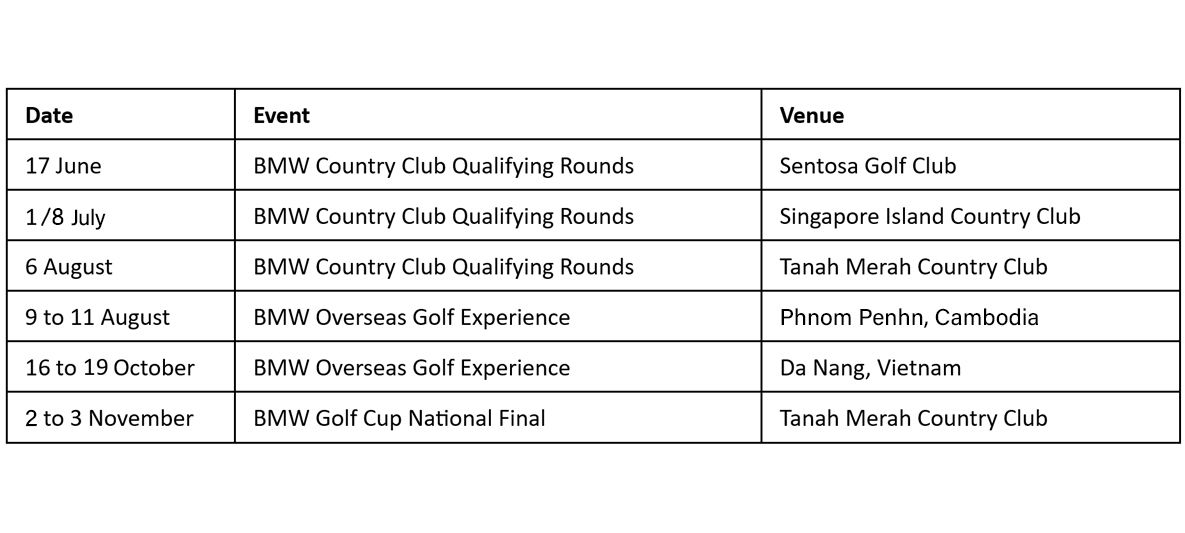 TERMS & CONDITIONS.
BMW Asia Pte Ltd reserve the right to make changes to the event programme, including but not limited to venue date(s), timing, and/or to postpone or cancel the event. Upon any variation or postponement, you will be notified of any changes as soon as it is practicable.
Read more
| | | |
| --- | --- | --- |
| | BMW Country Club Qualifying Rounds | |
| | BMW Country Club Qualifying Rounds | Singapore Island Country Club |
| | BMW Country Club Qualifying Rounds | |
| | BMW Overseas Golf Experience | |
| | BMW Overseas Golf Experience | |
| | BMW Golf Cup National Final | |