BMW M4 COUPÉ – PERFORMANCE FEATURES.
Inspired by motorsport: an overview of powertrain and chassis technologies
Over four decades of developing high-performance vehicles, the goal has always been to achieve a perfect interplay of power unit, chassis, transmission and steering – with the driver's impression the benchmark. The BMW M4 Coupé embodies everything that is distinctive about BMW M. Every detail is primed for outstanding performance and precision. A set-up for pilots that is hard to beat.
BMW M TwinPower Turbo 6-cylinder petrol engine & M Competition package.
The M TwinPower Turbo inline 6-cylinder petrol engine features superior power delivery and silky-smooth running coupled with a sporty engine sound. With Double-VANOS, Valvetronic, High-Precision Injection and a TwinScroll turbocharger, the high-performance M TwinPower Turbo inline 6-cylinder petrol engine in combination with the optional M Competition package provides 331 kW (450 hp). The M sports exhaust system generates a characteristic engine sound. The specially tuned Adaptive M suspension provides optimal road contact, increased traction and more agile handling.
Adaptive M suspension.
By electronically regulating the shock absorbers, Adaptive M suspension automatically ensures the vehicle is perfectly tuned to suit the driving conditions. The suspension settings can be modified for high comfort or sporty dynamics via the COMFORT, SPORT and SPORT+ modes on the Driving Experience Control.
7-speed M double-clutch transmission.
Shift gears without interruption in tractive force, without using the clutch and without slowing down: the 7-speed M double-clutch transmission with Drivelogic makes this possible. Gears can be changed automatically or manually using the gearshift paddles on the steering wheel or the gear lever. Launch Control guarantees maximum acceleration from a standing start.
M 6-speed manual transmission.
With a 12 kg reduction in weight compared to traditional models and its more compact shape, the M 6-speed manual transmission in the BMW M4 Coupé exemplifies intelligent lightweight construction. Inside the transmission, the new carbon fibre friction lining in the baulk rings provides more comfortable gear shifts, and a dry sump lubrication system ensures a more efficient supply of oil.
M Driver's Package.
The M Driver's Package increases the top speed to 280 km/h. The M Driver's Package can be ordered when purchasing a new vehicle or can be added on at a later date. All other technical data remain unchanged once installed. This also includes a voucher for BMW M Intensive Training as part of BMW Driving Experience.
BMW M4 COUPÉ – DESIGN FEATURES.
M specific design elements in exterior and interior.
The BMW M4 Coupé immediately casts its spell on the beholder. LED lights at the front and rear as standard emphasise the aerodynamic body. The large air inlets underline the sporting ambitions, as do the 20-inch light alloy wheels from the optional M Competition package. Sporty elements such as the round instrument gauges set exclusive accents in the cockpit. Everything about this sports car signals power and dynamism.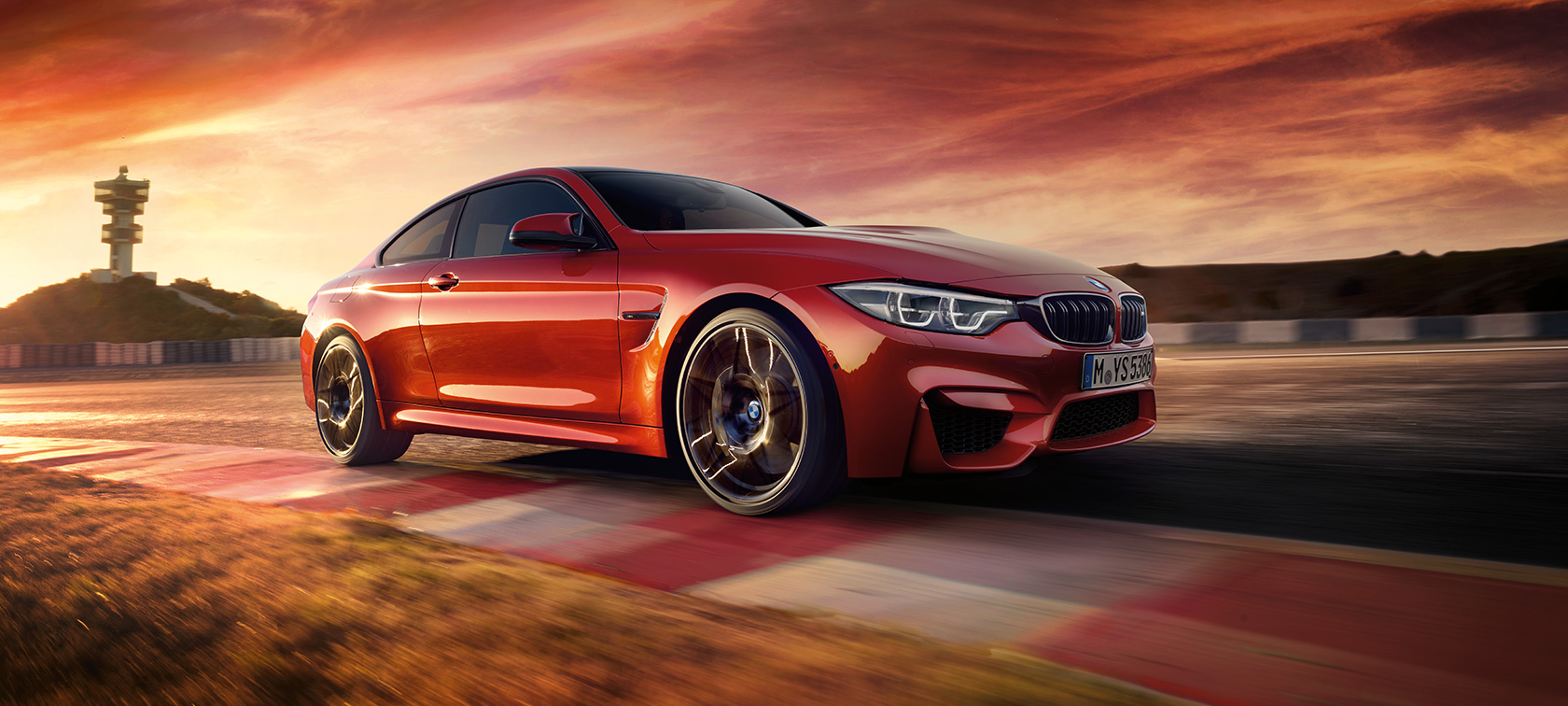 Exterior highlights in the M Competition package.
On the exterior, the M Competition package makes a great impression with exclusive, forged and gloss-lathed 20" M light alloy wheels Star-spoke style 666 M with mixed tyres. The athletic character is emphasised by the BMW Individual high-gloss Shadow Line with extended features, which runs in Black high-gloss from the front kidney grille over the gills to the model designation, ending at the black chrome-plated tailpipes.
Exclusive carbon roof.
As part of the BMW intelligent lightweight construction concept, the Carbon roof made of carbon fibre reinforced plastic (CFRP) helps to reduce the vehicle's weight, shifting the car's centre of gravity lower. This leads to an increase in agility and dynamics when taking a bend, accelerating and braking.
LED rear lights.
State-of-the-art LED technology guarantees optimum visibility with maximum efficiency and service life. Large-area blinkers and quick-reacting LED brake lights increase safety. A character-defining feature by night and by day is the distinctive L-shape of the rear lights.
Low-beam headlights.
The Adaptive LED headlights allow drivers to see deep into corners as soon as they start turning the steering wheel. In this way, cornering lights provide optimum illumination of the immediate surroundings and therefore increase active driving safety.
BMW Selective Beam.
BMW Selective Beam automatically adjusts the high-beam headlights according to light and traffic conditions. The system registers the presence of vehicles in front or oncoming traffic and can be depended on to avoid dazzling other road users by smoothly adjusting the high-beam lights to suit.
Driver-oriented cockpit.
A cockpit fit for the racetrack. Every detail is ergonomically optimised and oriented directly to the driver. At the centre is the elegant M leather steering wheel with its soft leather 'Nappa' covering. Its M Drive buttons can be used to activate individual setups, while sports-style gearshift paddles together with the optional M double-clutch transmission enable gear changes in fractions of a second. The instrument display in a striking M design provides a perfect view of all relevant driving data.
M seats.
The bucket-style M seats with integral head restraints and illuminated M logo at shoulder level offer perfect side support and encourage new personal bests. Because their systematic use of lightweight construction helps to reduce the vehicle's weight. For extra support during sporty driving, there is a knee pad on the driver's side of the centre console.
High-quality interior.
Genuine exclusivity stands up to the scrutiny of a second glance. The interior trim finishers 'Carbon Fibre' with highlight trim finisher Black Chrome illustrate this perfectly with their unique surface finish radiating maximum dynamism. Also guaranteeing a sporty yet individual interior is the high-quality full leather upholstery 'Merino' Bicolour Sakhir Orange / Black.
M4 door sill finishers.
Even before you take a place in the ergonomic M seats of the BMW M4 Coupé, your attention is bound to be caught by the exclusive door sill finishers made from exclusive aluminium with M4 model logo.
BMW M4 COUPÉ.
Connectivity.
In the BMW M4 Coupé, you receive support both on the road and on the racetrack from a wide range of innovative technologies that provide greater comfort and safety while setting new standards. You can record all the information relevant to driving in fractions of a second and enjoy networked communication, information and entertainment of the highest possible level. Driving pleasure has never been so pioneering.
BMW Head-Up Display with M-specific functions.
The full-colour BMW Head-Up Display with M-specific functions projects all information relevant for the journey directly into the driver's field of vision. With the press of a button, the driver can switch to the M-specific display, which includes a gear indicator, the rpm as a dynamic range curve, as well as shift lights indicating the optimal moment to shift.
BMW M Laptimer App.
Experience driving pleasure down to tenths of a second and m/s²: "The BMW M Laptimer" app is the ultimate tool for race track data analysis, including automatic calculation of lap times. The app records sensor data directly from your BMW, and uses these values to help you analyse your driving style. This allows you to increase precision and dexterity and, in turn, improve your lap times. You can also record your journeys off the race track, such as road trips with your racing community.
Apple CarPlay®.
Why go without the features of your iPhone in your BMW when you can continue operating it as usual? The preparation for Apple CarPlay® gives you remote access to telephony as well as apps like iMessage, WhatsApp, TuneIn, Spotify and Apple Music. You can also use the voice button on the steering wheel to access Siri, Apple's voice assistant.
Telephony with wireless charging.
Telephony with wireless charging includes a wireless charging dock and additional USB ports. A roof aerial connection improves mobile reception. Two mobile telephones and an audio player can be connected simultaneously via Bluetooth. Also included are: Bluetooth Office and the technical capacity for a WiFi hotspot.
Note: Photos and features shown may vary from the actual unit. For local specifications, please consult your local dealers.
Read more
​
Fuel consumption and CO2 emissions.
BMW M4 Coupé:
Fuel consumption in l/100 km (combined): 9.1–8.3
CO2 emissions in g/km (combined): 209–194

The values of fuel consumptions, CO2 emissions and energy consumptions shown were determined according to the European Regulation (EC) 715/2007 in the version applicable at the time of type approval. The figures refer to a vehicle with basic configuration in Germany and the range shown considers optional equipment and the different size of wheels and tires available on the selected model.

The CO2 efficiency specifications are determined according to Directive 1999/94/EC and the European Regulation in its current version applicable. The values shown are based on the fuel consumption, CO2 values and energy consumptions according to the NEDC cycle for the classification.

For further information about the official fuel consumption and the specific CO2 emission of new passenger cars can be taken out of the "handbook of fuel consumption, the CO2 emission and power consumption of new passenger cars", which is available at all selling points and at https://www.dat.de/angebote/verlagsprodukte/leitfaden-kraftstoffverbrauch.html.

All technical data are indicative only and varies as per market and configuration. For more information, please check with your local dealer for all fuel consumption and CO2 emissions.