MODELS AND EQUIPMENT.
Models and equipment lines for the BMW X3.
IMPRESSIVE POWER.
Driving dynamics of the BMW X3.
The BMW X3 presents its athletic and dynamic look. Thanks to its intelligent lightweight construction concept and precisely coordinated aerodynamics measures, it provides an impressively agile and high-torque response in every driving situation. The air vent control of the Active air stream kidney grille is unique – if demand for cooling air is low, one air vent remains closed automatically, thus providing a further enhancement in aerodynamics.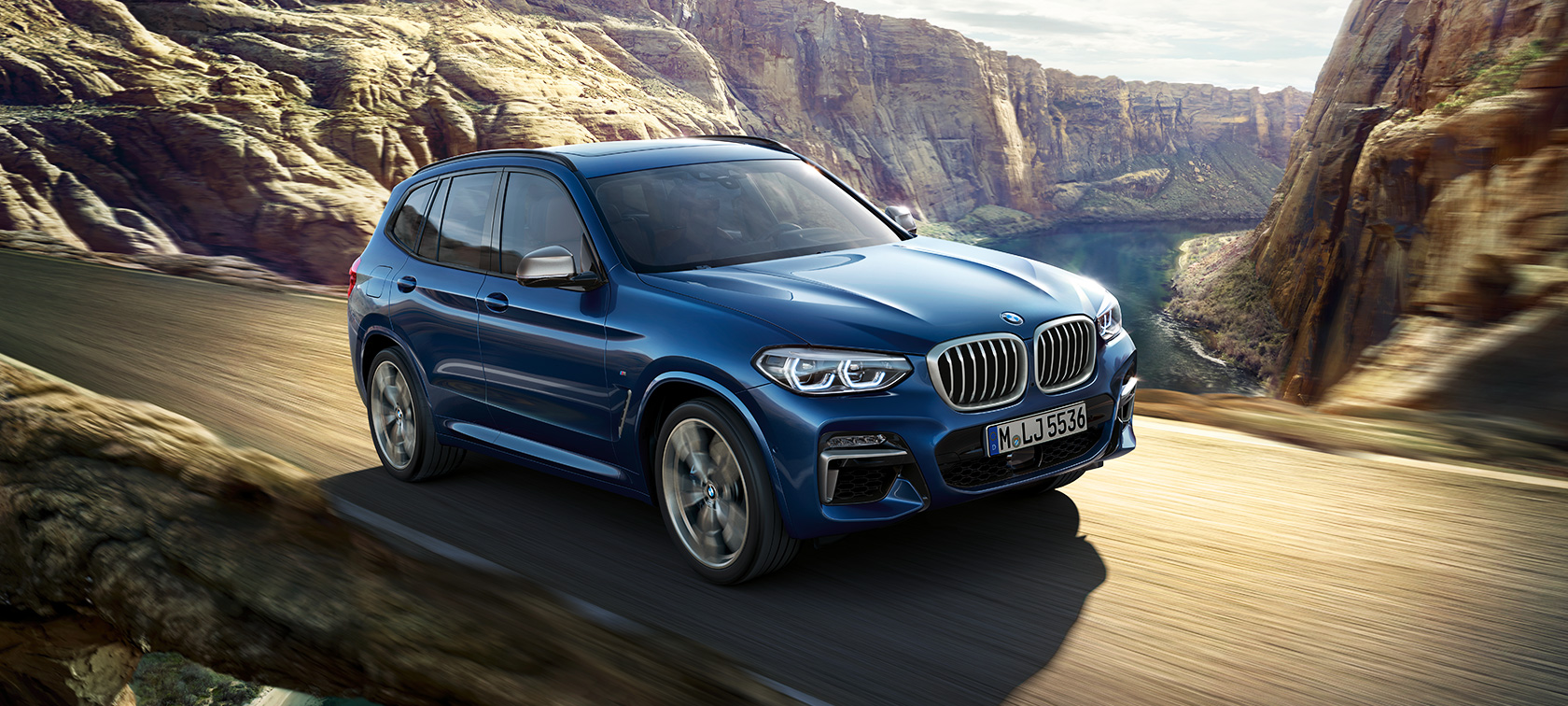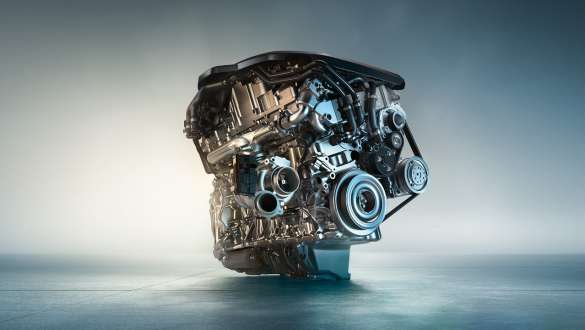 BMW TwinPower Turbo inline 6-cylinder diesel engine.
The new-generation BMW TwinPower Turbo inline 6-cylinder diesel engine offers impressive power delivery combined with exemplary consumption figures, as a result of highly innovative technologies such as a turbocharger with variable turbine geometry common rail direct injection. The engine delivers 195 kW (265hp) and an impressive maximum torque of 620 Nm.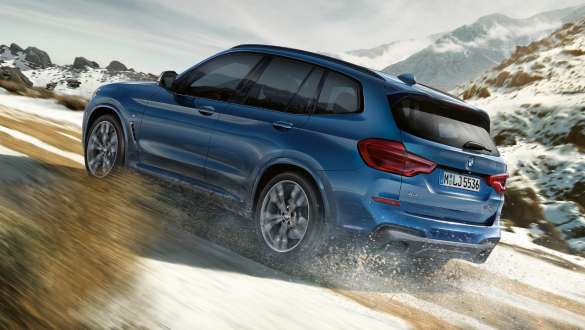 BMW xDrive.
The intelligent BMW xDrive all-wheel drive system smoothly and variably distributes drive power to the front and rear wheels for maximum traction, driving dynamics and safety in every driving situation. For even better agility, the electronically controlled power distribution for instance counterbalances oversteer or understeer on bends.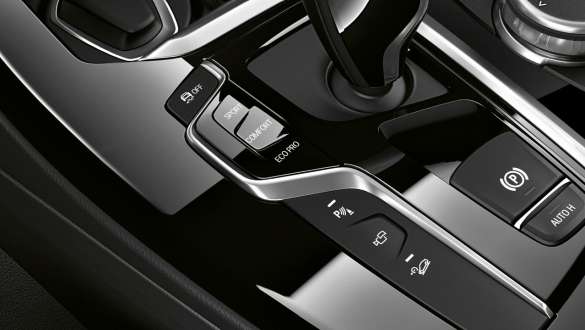 Driving Experience Control.
The Driving Experience Control offers the driver the choice between the standard COMFORT mode, ECO PRO Mode, geared towards efficiency, and SPORT mode, which enables even more dynamic driving. The new interactive Adaptive Mode function continuously adjusts the adaptive suspension, the steering and the Steptronic transmission to suit the current driving situation.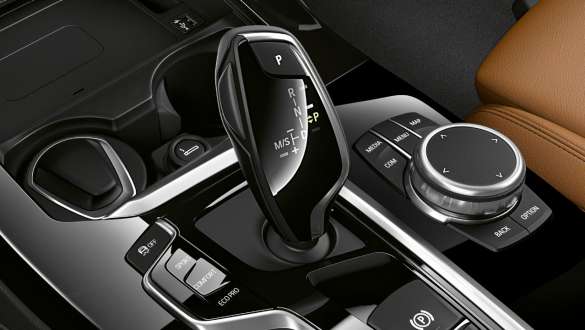 Steptronic Sport transmission.
The 8-speed Steptronic Sport transmission offers incredibly sporty gear changes. Whether automatic or manual using gearshift paddles or gear lever - for comfortable coasting or incredibly dynamic driving. In SPORT mode and with the gear lever in the lefthand S/M position, the gear shifts are configured for maximum performance.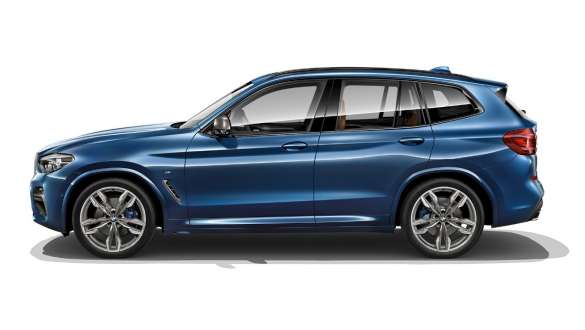 Aerodynamics.
With targeted measures focusing on Aerodynamics, BMW has optimised drag coefficient and efficiency as well as interior acoustics. Fuel consumption has also been reduced. The Active air stream kidney grille, the Air Breather, the Air curtain on the front wheels and the Aero wheels are all targeted and detailed measures to further reduce air resistance.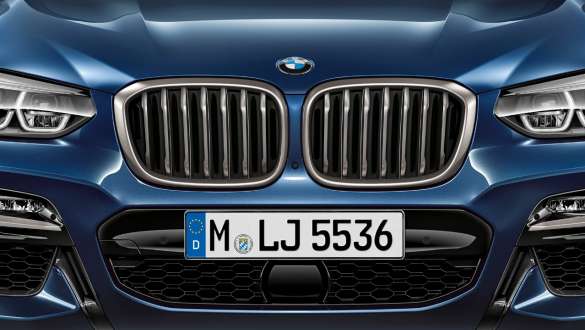 Active air stream kidney grille.
The Active air stream kidney grille represents the cutting edge of aerodynamic performance. When a cooling airflow is not needed, it electronically closes the radiator grille with its air vents and thereby reduces the amount of air flowing into the engine bay. This optimises both the aerodynamics and consumption rates.
DIRECTIONAL STABILITY AT THE PUSH OF A BUTTON.
Driver assistance systems of the BMW X3.
Highly modern driver assistance systems further elevate the driving experience in the BMW X3. The revised operating concept inspires with intuitive user guidance and practical digital functions – with maximum focus on your needs and on the path towards autonomous driving.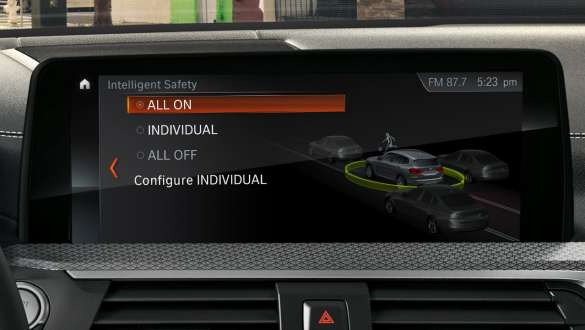 Driving Assistant Plus.
Driving Assistant Plus offers greater comfort and security during monotonous or complex driving situations. These can include traffic jams, stop-and-go traffic or long journeys through the city, on country roads or motorways, along with navigating junctions and lane changes.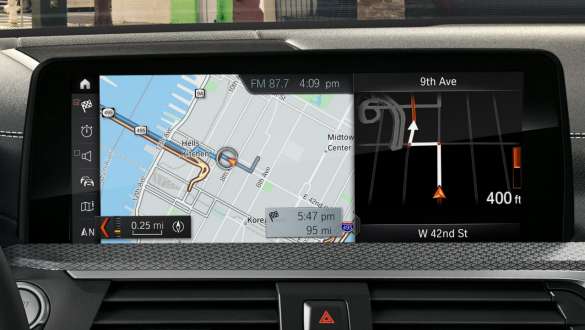 Navigation system Professional.
The Navigation system Professional incl. 10.25" LCD colour display and Radio BMW Professional with DVD drive comes with more than 20 GB of memory e.g. for audio files. It is operated intuitively via the iDrive Touch Controller and seven functional bookmarks or alternatively via the Touch Display.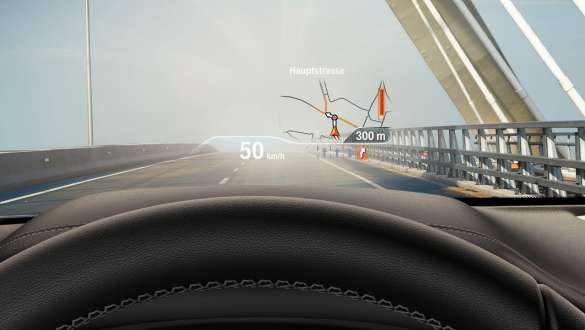 BMW Head-Up Display.
The full-colour BMW Head-Up Display projects all information relevant to the journey directly into the driver's field of vision, thereby allowing them to fully concentrate on driving. Information such as the current speed, navigation directions, speed limit info including no-overtaking indicator, along with telephone and entertainment lists are displayed, depending on the equipment.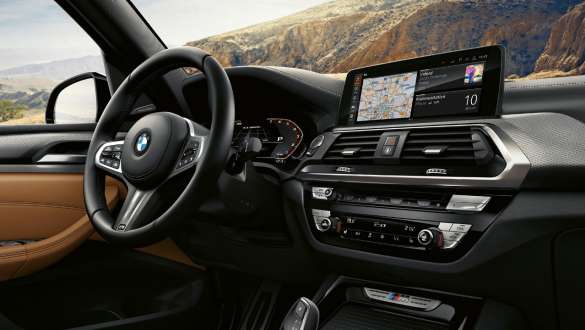 BMW Live Cockpit Plus.
The BMW Live Cockpit Plus with navigation function includes an instrument panel with a 5.7" instrument cluster, a high-resolution 8.8" touch-enabled Control Display and the iDrive Controller on the centre console. The BMW Operating System 6.0 can also be operated via the iDrive Controller.
SEAMLESSLY CONNECTED.
Digital Services in the BMW X3.
Be connected with friends and the world while you are travelling, use exclusive services and smart apps, call up and send e-mail or surf the Internet via WiFi – the BMW X3 establishes a class of its own in terms of connectivity and comfort.
FUTURISTICALLY AGILE.
The BMW X3 xDrive30e.
The BMW X3 xDrive30e combines the best of two worlds: the dynamics and efficiency of an electric motor with the range and comfort of a combustion engine. A plug-in hybrid as SUV with intelligent technologies and dynamic acceleration that offers an agile driving experience.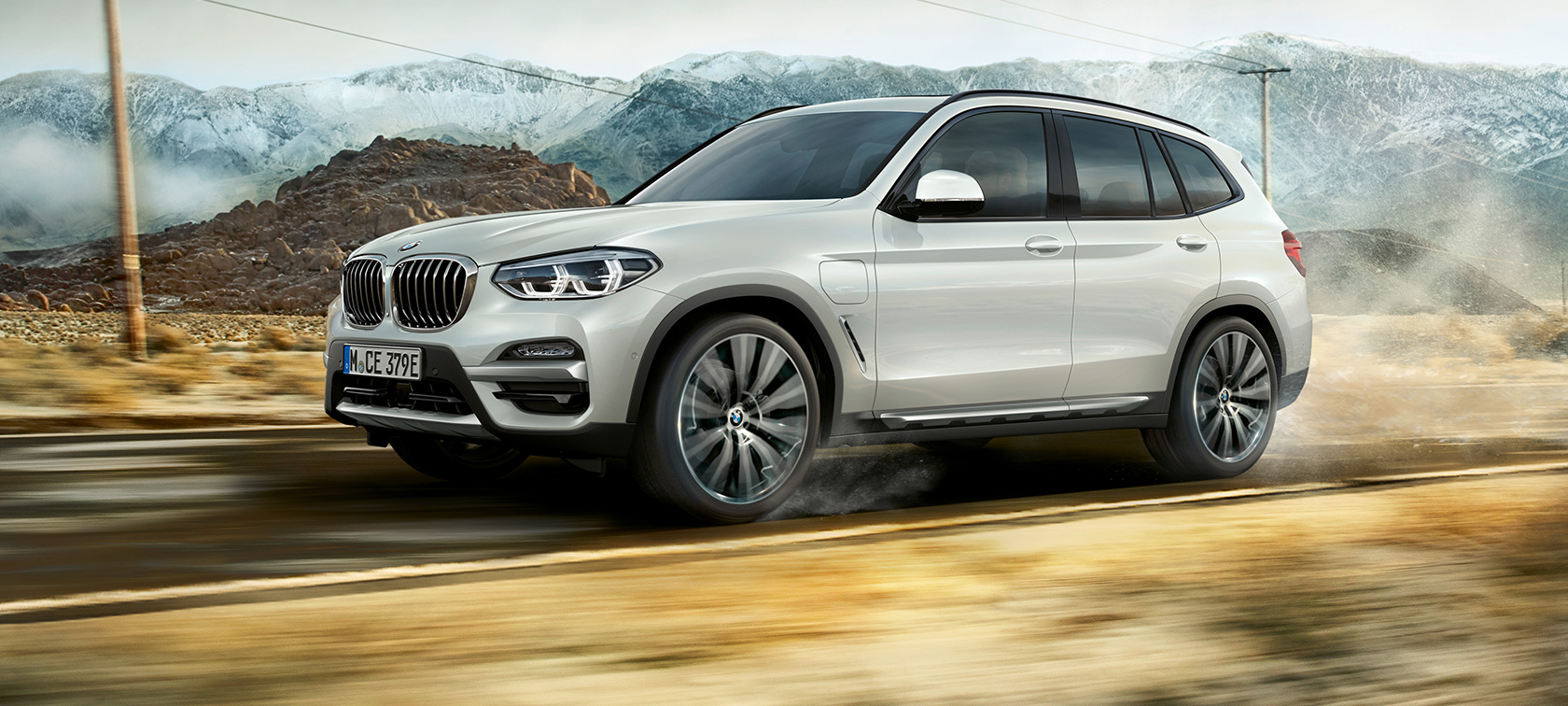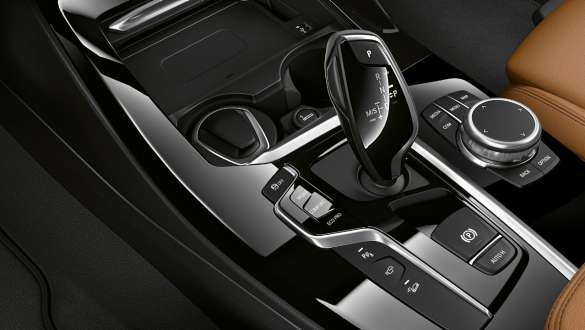 Driving Experience Control.
With the Driving Experience Control, you can choose between the four driving modes ECO PRO, COMFORT, SPORT and SPORT+ at any time. The programmes have different effects on the drive management and the setup of the suspension characteristics. The ECO PRO mode is designed for maximum driving efficiency and comfortable suspension characteristics, while the SPORT+ mode with its additional power of up to 30 kW focuses on sporty driving dynamics.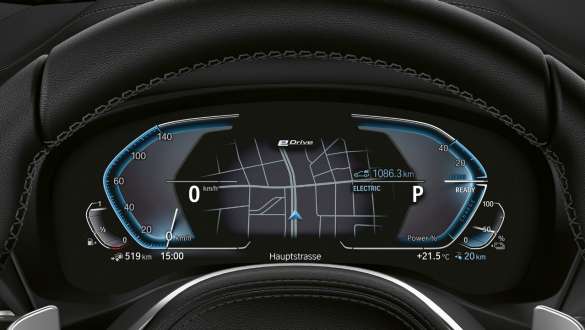 Hybrid-specific instrument cluster.
With the hybrid-specific instrument cluster, you always have all the relevant information about the innovative plug-in hybrid drive at your fingertips. For example, you can read the output display of the electric motor as well as the charge level indicator and the purely electric and combined range.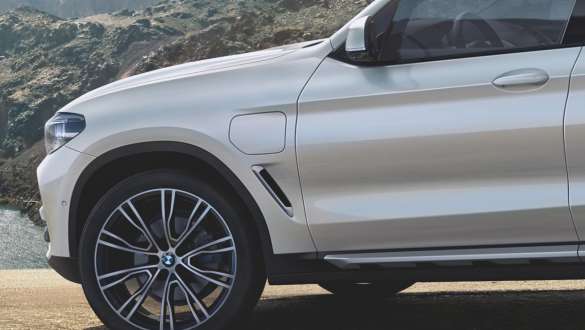 Charging flap incl. charging status.
The port for external charging of the high-voltage battery is located behind a flap on the vehicle's front side panel on the left. This protects the socket from environmental influences. An LED display indicates the current charging status.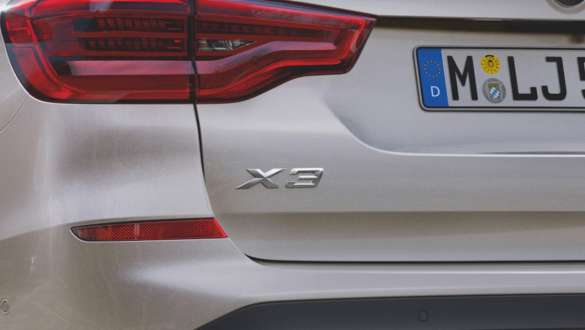 Plug-in hybrid drive.
The innovative plug-in hybrid drive combines an efficient combustion engine with a powerful electric motor. The particularly high system output thus achieved offers you the range comfort of the combustion drive and at the same time the possibility of driving without local emissions.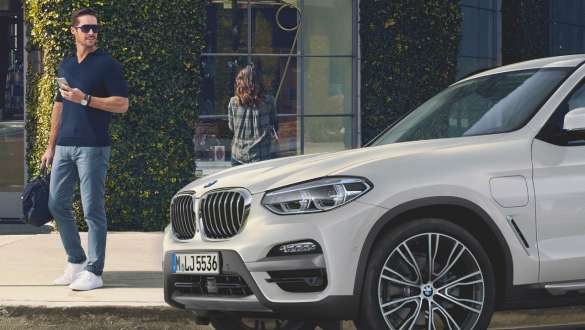 Acoustic protection for pedestrians.
With the acoustic protection for pedestrians, the vehicle generates an elegant sound signature up to a speed of 30 km/h in order to make other road users aware of the vehicle's presence as it approaches them. The system is automatically active when the vehicle is started.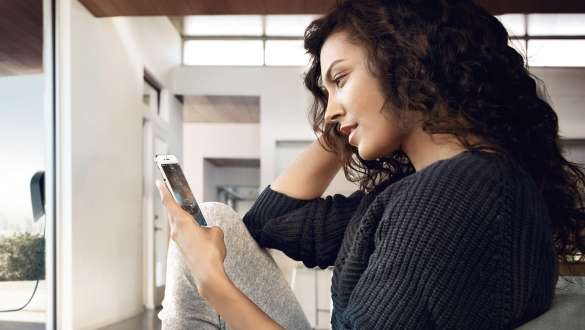 eDrive Remote Services.
Is the charging status sufficient for a trip to the city or can I find a charging station nearby? With eDrive Remote Services, you can check this conveniently via the BMW Connected App on your smartphone. You can also adjust the temperature, lock your vehicle or flash the lights remotely if necessary.
TECHNICAL DATA.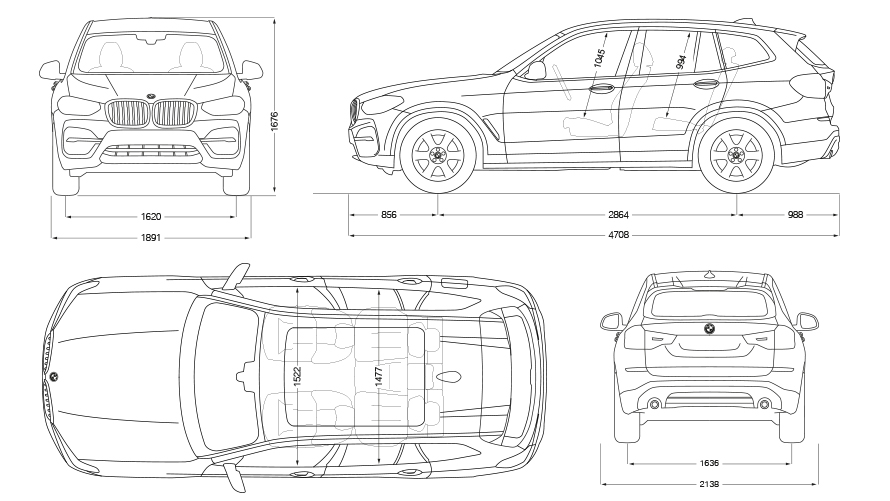 Weight

| | |
| --- | --- |
| Unladen weight EU in kg | 1,735 |
| Max. permissible weight in kg | 2,330 |
| Permitted load in kg | 660 |
| Permitted axle load front/rear in kg | 1,070/1,370 |
| Luggage capacity min. (seats up or roof down) in l | 550 |
| Luggage capacity max. (seats down or roof up) in l | 1,600 |
| Trailer load (unbraked) in kg | 750 |
| Trailer load 8% (braked) in kg | 2,000 |
| Trailer load 12% (braked) in kg | 2,000 |
Engine

| | |
| --- | --- |
| Cylinders/valves | 4/4 |
| Capacity in ccm | 1,597 |
| Stroke/bore in mm | 75.6/82.0 |
| Engine power in kW (PS) at 1/min | 125 (170)/5,000-6,000 |
| Engine torque (Nm) at 1/min | 250/1,500-4,700 |
| Compression ratio : 1 | 9.0 |
Performance

| | |
| --- | --- |
| Top speed in km/h | 208 |
| Acceleration 0–100 km/h in s | 9.1 |
Fuel consumption

| | |
| --- | --- |
| Urban in l/100 km | 8.1-7.9 |
| Extra-urban in l/100 km | 7.0-6.6 |
| Combined in l/100 km | 7.4-7.1 |
| CO2 combined emissions in g/km | 169-163 |
| Tank capacity, approx. in l | 65 |
Wheels

| | |
| --- | --- |
| Tyre dimensions front | 225/60 R18 104W XL |
| Tyre dimensions rear | 225/60 R18 104W XL |
| Wheel dimensions and material front | 7 J x 18 inches, light-alloy |
| Wheel dimensions and material rear | 7 J x 18 inches, light-alloy |
Note: Photos and features shown may vary from the actual unit. For local specifications, please consult your local dealers.
Read more
​
Fuel consumption and CO2 emissions.
BMW X3 xDrive20d:
Fuel consumption in l/100 km (combined): 5.7–5.1
CO2 emissions in g/km (combined): 150–136

BMW X3 xDrive30d:
Fuel consumption in l/100 km (combined): 6.2–6.0
CO2 emissions in g/km (combined): 162–159

BMW X3 M40i:
Fuel consumption in l/100 km (combined): 8.9
CO2 emissions in g/km (combined): 204

The information on fuel consumption, CO2 emissions and energy consumption has been determined in accordance with the prescribed measurement procedure VO (EU) 715/2007 in the version applicable at the time of type approval. The figures refer to a vehicle with basic configuration in Germany and the range shown considers optional equipment and the different size of wheels and tires available on the selected model.

Further information about the official fuel consumption and the official specific CO2 emissions for new passenger automobiles can be found in the 'New Passenger Vehicle Fuel Consumption and CO2 Emission Guidelines', which are available free of charge at all sales outlets and from DAT Deutsche Automobil Treuhand GmbH, Hellmuth-Hirth-Str. 1, 73760 Ostfildern, Germany and on https://www.dat.de/co2

The values are already based on the new WLTP regulation and are translated back into NEDC-equivalent values in order to ensure the comparison between the vehicles. For vehicle related taxes or other duties based (at least inter alia) on CO2-emissions the CO2 values may differ to the values stated here.